OZONE GENERATOR
OZONE GENERATOR HYGIENIC HG-10
Hygienic HG-10 is an efficient and safe product that uses ozone to sterilize and kill bacteria, viruses, fungi, and odor. Ozone is known for its solid oxidizing characteristic, and a disinfection ability twice of that of chlorine. Recently, researchers have reported the effectiveness of ozone in suppressing the infectivity of the new coronavirus. For example, in August 2020, research results from Fujita Medical University showed that a low concentration of (0.05ppm or 0.1ppm) ozone gas is effective against the COVID-19. Unlike air purifiers that absorb dust in the air, the Hygienic HG-10 can disinfect and deodorize airborne viruses and odor.
Specification:
| | |
| --- | --- |
| Product name | HYGIENIC |
| Model | HG-10 |
| Ozone volume | 2.5・5.0・10mg/h (switchable) |
| Ozone concentration | Max 0.4 ppm (Outlet) |
| Supply voltage | AC100~240V (using 50/60Hz AC adapter) |
| Power consumption | 4W |
| External dimensions | 249.5 (W) x 80 (D) x 200(H)mm |
| Gross weight | Approx.: 1.0kg |
| Airflows when generating ozone | Approx. 1.2m3/h |
| Operating temperature and humidity | 0~40°C (non-condensing) |
| Plug type | Can be used with all types of power outlets (UK, SAA, VDE, UL) |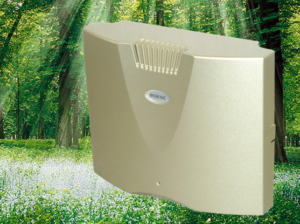 DESIGN
This champagne gold design harmoniously blends into any space, while maintaining its high decorative appearance.
EASY MAINTENANCE
Cleaning of the ozonizer and the filter are simple.
ODOR NEUTRALIZATION
Ozone-based odor neutralization is more effective then air fresheners, which only cloak unpleasant odors with other fragrances, because the ozone breaks down the source of the odor.
DISINFECTION
Most chemical sterilization techniques affect the nuclei of bacteria and virus cells. By contrast, ozone sterilization destroys the cellular membrane, causing the nucleus to dissolve and eradicating the bacteria so that resistance cannot be developed. Furthermore, ozone reverts to oxygen after it performs its function.